No coal emergencies with Canning Conveyor
4th November 2008
In a recent project for Corus Construction and Industrial, Canning designed, manufactured and supplied an emergency coal conveyor for ACO at Scunthorpe.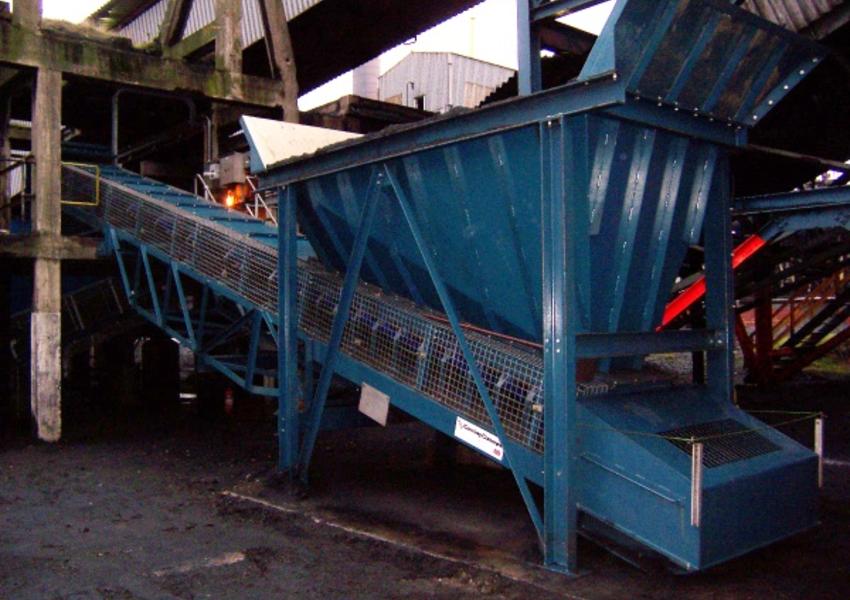 This new installation covers that if a failure occurs the system can be bypassed with a new feed via the newly installed hopper feeder.
The specification included the supply of a new dump hopper 4.5m wide x 2.6m x 3.0m high to the front loading lip. Fabricated from 6mm thick mild steel plate and stiffened with RSA sections as required, the top inlet was fitted with flared anti-spill plates to three sides. Canning also designed the hopper outlet to accommodate a crash beam to reduce impact on the belt feeder including a screw type guillotine door for adjusting the throughput.
Specified to accept up to a minimum of 10 tonnes of -50mm coal from front loader buckets, hopper outlet skirt plates were fitted to run the full length of the belt feeder.
Canning also supplied a belt feeder approximately 12 metres in length x 900mm wide which is designed to discharge at up to 200tph. Built in lattice frame construction from ground to existing concrete floor level it is fitted with a 750mm wide open mesh walkway, full length to one side only. This conveyor was manufactured in channel stringer construction from the gantry to the head frame with the head frame supporting the drive and snub drums, the 22kW shaft mounted drive unit and the discharge unit with belt scraper.
This discharge unit feeds directly into a new receiving chute which feeds the existing modified 900mm wide belt.
All motors supplied were weather proof with class F insulation protected to IP55 with drive through a shaft mounted gear unit with torque arm and direct mounted motor.
The complete project was completed and installed by Canning engineers under the 5 step CORUS UK risk assessment and also included their own company risk assessment and method statement.
Dave Ramsay, Corus maintenance engineer, said: "We were very impressed. The installation team were thorough and worked safely to risk assessment and method statements with no disruption to operations."